Scholarships
Aerospace Scholarships 2016 eBook and Online Directory.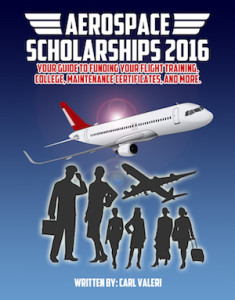 Our scholarships ebook, PDF Version, is available for members to download here.
Members access the entire directory by clicking here.
If you purchased the Scholarships ebook or wish to learn more about purchasing a PDF version of the ebook click here : Scholarships eBook 2016
For a Free Preview Of The Amazon E-Book Click Here:
Our scholarship directory lists over 100 Aerospace scholarships with a combined value of over $1,000,000. Entries are updated regularly to assure accuracy.
Welcome to your resource for Aviation and Aerospace Scholarships.  The information concerning each scholarship is presented in a compete and simplified format. Our scholarship team constantly updates and verifies each listing giving you the most up to date information.
It can be a daunting task researching scholarships for your specific needs.  Many of the online directories have inaccurate or outdated information. Some only containing links to the scholarship website.
This directory will help you achieve your career goals by obtaining money to fund your training and education. By applying to one or more scholarships you could earn thousands towards your education or training. Below is a sample of the scholarships included in the directory. Become a member today and you can view the entire directory.Learn how to access to the entire directory by clicking here.
Flight Training Scholarships:
Gathering of Eagles Flight Training Scholarship $1,500
Chuck Freeland Memorial Scholarship $3,500
Airbus A320 Type Rating Certificate Scholarship
Anne Bridge Baddour Aviation Scholarship
AOPA Student Pilot Scholarship
Bombardier Learjet 45 Type-Rating Scholarship
Bunny M. Connors Memorial Scholarship
CAE SimuFlite Citation Corporate Aircraft Training Scholarship
Christine Reed Memorial Flight Scholarship
Delta Air Lines Boeing 737-800 Type Rating Certificate Scholarships (2)
Diane Endres Ballweg Scholarship
Ernie Ayer Aviation Scholarship
HAI/WAI Initial Helicopter Scholarship
Hal Botsford Gift of Wings Fund
The International Society of Women Airline Pilots (ISA+21) ATP or CFI-multiengine Scholarship (4)
International Society of Women Airline Pilots (ISA+21) B-737 type ratings (2)
Jeppesen Flight Training Scholarship
The Keep Flying Scholarship 2015
Southwest Airlines Boeing 737NG Type Rating Scholarship (4)
Arthur M. Godfrey Foundation-Private Pilot, Light Sport, or A&P Mechanic
Arthur M. Godfrey Foundation-Advanced Certification
ACONE Honored Member Scholarship (members only)
Bauer-Bisgeier Memorial Scholarship (members only)
LeRoy W. Homer, Jr. Foundation Scholarship (members only)
Air Line Pilots Association Scholarship Program $12,000 (members only)
Aero Club of New England Scholarship for Pilot Training $2000 (members Only)
Aerospace Leadership Scholarships (members only)
Thrush Aircraft - Agricultural Aviation Scholarship (members only)
ForeFlight Scholarship (members only)
Noah Favaregh Flight Training Scholarship (members only)
Tinker Murdock Flight Training Award (members only)
Richard Harper Flight Training Scholarship (members only)
HFI Commercial Helicopter Rating Scholarship (members only)
Spartan College of Aeronautics and Technology – Service Member Scholarship Award (members only)
Spartan College Of Aeronautics And Technology – Boy Scouts Of America Aviation Explorers Scholarship (members only)
Spartan College Of Aeronautics And Technology – Aviation Excellence Scholarship (members only)
Aircraft Electronics:
AEA David Arver Memorial Scholarship
AEA Johnny Davis Memorial Scholarship
AEA Duncan Aviation Scholarship
AEA Dutch and Ginger Arver Scholarship
AEA Field Aviation Co. Inc. Scholarship
AEA Garmin - Jerry Smith Memorial Scholarship
AEA Leon Harris/Les Nichols Memorial Scholarship to Spartan College of Aeronautics & Technology
AEA L-3 Aviation Products Scholarship
AEA Lee Tarbox Memorial Scholarship
AEA Lowell Gaylor Memorial Scholarship
AEA Mid-Continent Instruments and Avionics Scholarship
AEA Monte Mitchell Scholarship
AEA Redstone College/Thomas J. Slocum Memorial Scholarships
AEA Rockwell Collins Scholarship
AEA The Stone Foundation Scholarship
AEA Tom Taylor Memorial Scholarship to Spartan College of Aeronautics & Technology
AEA Universal Avionics Systems Corporation Scholarship
Sporty's Foundation Flight Training Scholarship For Small-Aircraft Maintenance Technician
Ted Mallory Memorial Scholarship
Bill Sanderson Aviation Maintenance Technician Scholarship (members only)
Aircraft Maintenance:
Aero Club of New England Scholarship for Aircraft Maintenance $2000 (members only)
HFI Maintenance Technician Certificate Scholarship (members only)
Aviation Engineering:
American Airlines and American Eagle Engineering Scholarship
Delta Air Lines Engineering Scholarship
Aviation Management:
AEA Chuck Peacock Memorial Scholarship
Michelle North Scholarship for Safety (members only)
Eddie Queen Business Aviation Management Scholarship (members only)
Donald A. Baldwin Sr. Business Aviation Management Scholarship (members only)
Aviation Dispatcher:
Aircraft Dispatcher Certification Course
Universal Weather & Aviation FAA-certified Dispatcher Training Scholarship
WAI Mile High Chapter Empowerment Scholarship
Aviation Careers (General)
Charlie Wells Memorial Scholarship (members only)
UAA Janice K. Barden Aviation Scholarship (5) (Members only)
Florida:
Citrus County Florida:
John E. Kirk Aviation Scholarship
Montana:
Blue Goose First Generation Flight Scholarship (members only)
Polk County Florida:
The James C. Ray Scholarship – Glider Scholarship
New England:
Crocker Snow Instrument Scholarship
Michael T. Hadik Memorial Scholarship
Andrew Channing Cabot Memorial Scholarship (members only)
Dean S. Edmunds, Jr. MIT Scholarship (members only)
Charles and Arlene Ehlers Memorial Scholarship (members only)
John T. Griffin, Sr. Scholarship (members only)
Ann Wood-Kelly Scholarship (members only)
Southern California:
SOCAL Aviation Association (members only)
SCAA/CAE CJ Type Rating and Maintenance Training (members only)
Southwest USA:
SWAAAE Airport Management Short Course Scholarships (members only)
SWAAAE Michael A. Shutt Academic Scholarship (members only)
Philadelphia Area:
Fred Kacena Flight Training Scholarship (members only)
Southern Africa:
Keep Flying Scholarship – Southern Africa 2014
Scholarships for Women:
The Kelsey A. Meyer Memorial Scholarship
Lt. Valerie Cappelaere Delaney Memorial Scholarship
ISA Financial Scholarship (4) (members only)
Santa Rosa Ninety Nines Aviation Scholarship (members only)
Fly Now Award (members only)
WAI Oshkosh Chapter Spirit of Flight Scholarship (members only)
General International
NBAA International Operators Scholarship (members only)
S.T.E.M. (Science, Technology, Engineering, Math)
Yukiko Howell Memorial S.T.E.M. Scholarship
Youth Training and Camps
EAA Air Academy 339th Fighter Group Scholarship (members only)