Scholarships
Aerospace Scholarships 2017 eBook and Online Directory.
Members access the entire directory by clicking here.
For a Free Preview Of The Amazon E-Book Click Here: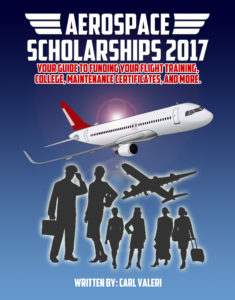 For a Free Preview in Itunes Store Click Here: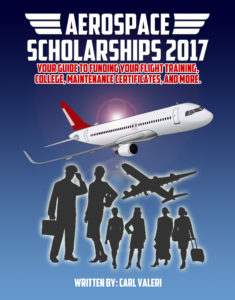 Our scholarship directory lists over 100 Aerospace scholarships with a combined value of over $1,000,000. Entries are updated regularly to assure accuracy.
Welcome to your resource for Aviation and Aerospace Scholarships.  The information concerning each scholarship is presented in a compete and simplified format. Our scholarship team constantly updates and verifies each listing giving you the most up to date information.
It can be a daunting task researching scholarships for your specific needs.  Many of the online directories have inaccurate or outdated information. Some only containing links to the scholarship website.
This directory will help you achieve your career goals by obtaining money to fund your training and education. By applying to one or more scholarships you could earn thousands towards your education or training. Below is a sample of the scholarships included in the directory. Become a member today and you can view the entire directory.Learn how to access to the entire directory by clicking here.
Flight Training Scholarships:
Gathering of Eagles Flight Training Scholarship $1,500
Aircraft Electronics:
Aircraft Maintenance:
Aero Club of New England Scholarship for Aircraft Maintenance $2000 (members only)
Aviation Engineering:
American Airlines and American Eagle Engineering Scholarship
Delta Air Lines Engineering Scholarship
Aviation Management:
AEA Chuck Peacock Memorial Scholarship
Michelle North Scholarship for Safety (members only)
Eddie Queen Business Aviation Management Scholarship (members only)
Donald A. Baldwin Sr. Business Aviation Management Scholarship (members only)
Aviation Dispatcher:
Aircraft Dispatcher Certification Course
Universal Weather & Aviation FAA-certified Dispatcher Training Scholarship
WAI Mile High Chapter Empowerment Scholarship
Aviation Careers (General)
Charlie Wells Memorial Scholarship (members only)
UAA Janice K. Barden Aviation Scholarship (5) (Members only)
Scholarships for Women:
The Kelsey A. Meyer Memorial Scholarship
For a Free Preview Of The Amazon E-Book Click Here: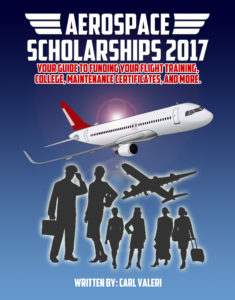 For a Free Preview in Itunes Store Click Here: