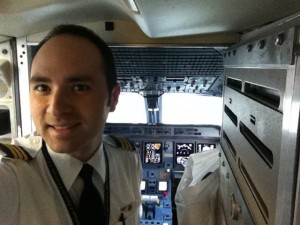 Ever want to know what it takes to upgrade to Captain at the airlines? Upgrading to Captain is one of the more challenging events in a pilot's flying career. The transition to flying as first officer to pilot in command is more than a simple checkride. The process of becoming a Captain takes weeks of hard work and study.
If you are curious what it takes to upgrade to Captain we will describe the process and give you advice on how to prepare for the upgrade training and how to pass your check ride.
Podcast: Play in new window | Download
Subscribe: Apple Podcasts | Android | RSS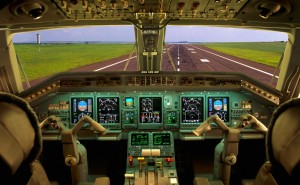 Today I am with Len Costa a newly minted airline Captain. Len is also the publisher of The Piot Report.com and is Host of The Stuck Mic Avcast. Len and I discuss:
Flying the Embraer 145
The upgrade process
How to prepare for upgrade training
What are some of the common causes for upgrade training failure.
Advice on how to prepare mentally for the training and the check ride.
Recommendation:
ThePilotReport.com is a website of aviation product reviews, demos, and videos of people living the aviation lifestyle. I think you will enjoy the videos because they are both entertaining and informative. To talk more about The Pilot Report.com is the publisher of this fine website and our guest today, Len Costa.
Aviation Career Questions Answered:
As I mentioned in the last episode I would like to spend time counseling each and every one of you individually but I don't have the spare time due to my flying schedule and the demands of providing content for this podcast and other websites. So if you have a question concerning aviation careers please e-mail me and I will include it in an upcoming episode so all can benefit from your questions.
The following Questions are discussed in this episode with my guest Len Costa. Questions are edited for privacy and accuracy.
Question 1 is from Rob Cigliano from TheNewPIlotPodBlog.Com:
Carl,
Great podcast. I am really enjoying it. As an aviation enthusiast who is contemplating changing careers to the aviation industry, I find the podcast to be relevant and informative.
I am taking online classes at ERAU (Embry Riddle Aviation University) for a masters in airport/aviation management with the hopes of getting into that field when I am ready to say goodbye to my current career.
What advice would you give to someone who is not in the aviation industry but would like to change careers in their 40s or 50s to join the aviation field?
Keep up the great job!"
Question 2 From Sam:
Hi Carl,
I've always been interested in becoming an Airline pilot and got as far as my PPL before I said to myself I would love to go further however it just does not make financial sense at this moment in time and the risk is too big.
I wanted to ask about this apparent "pilot shortage". Boeing's forecast for pilots sure looks like an impressive number however when you break it down the number of pilots needed isn't all that great (In my opinion). Scott Spangler has an article about this on his Jet Whine blog.
http://www.jetwhine.com/2012/07/another-pilot-shortagereally/
I've recently started a career and my job role mainly involves computer programming. I work in the ECEPS team (Engine Control and Electrical Power Systems)and although this job is interesting, its not really what my life ambition goal is which is to become an airline pilot. However being a pilot is all about making good decisions and I think sticking with this job is a good decision instead of landing myself with an enormous loan for flight training with no guarantee of a job at the end of it all.
So my question is, I'm 25 years of age now, and by the time I save for my training I will realistically be around 30 to 35. Do you think this is too old of an age to start training as a pilot?
Sorry for the long email, looking forward to your next episode!
Take care,
Sam "
Question 3 From Steve:
Hey Carl,
I'm a pilot/blogger in Ohio and regular podcast listener – I also know Victoria; we finally met up at OSH last summer. Recently I was listening to your interview with Doug Stewart from Sebring and the discussion about the CFI-SP rating. I've recently been thinking about working towards that rating myself and, basically, I'm trying to determine if it's a good idea or not. So hopefully you don't mind me asking a couple questions about it?
I have a career outside aviation (although I'd love to find a way to work in aviation long-term) and, at least right now, instruction is just something I think I would enjoy. It would build my own skills, allow me to share my passion for flight with other people, and perhaps provide a little extra income on the side.
I've been chatting with some other CFIs and a couple of interesting (and good, in my opinion) suggestions have come up. One said I should go for my AGI/IGI since it's relatively easy (book learning/studying, test, certificate) and affordable and would allow me to teach ground school on the side. Plus, it would get the FOI test out of the way. I hadn't thought of that before but it seems like a good suggestion – I really enjoyed ground school when training for my Private. Rod Machado is the one who suggested I pursue my CFI-SP. I honestly hadn't ever looked into the requirements before, but it's a lot simpler than the full IR > Comm > CFI route, though I still think I would like to do all that – eventually.
It seems like this might be a great way to bridge the money/experience/time gap. Also, the fact that my airport does a ton of LSA training in the Cub and Champ doesn't hurt. I know they're looking for CFIs (they've talked to me about it) and every student starts in an LSA… so there's definitely some opportunity there.
One major question I have (and I need to talk with them about this as well) is whether the current FAA limitation on dual hours received from a CFI-SP counting towards Private training is a serious hindrance. I can certainly see how it would be. Why would they want one of their instructors to effectively be introducing a limitation on some of their students? On the other hand, for students truly interested in only getting their Sport, it shouldn't matter. Any thoughts on this?
Finally, any general comments/suggestions on my situation and plan in general?
Thanks so much in advance – I really appreciate it!
-Steve"
Thanks for listening to Aviation Careers Podcast. If you have any questions, comments. or suggestions for upcoming episodes I would love to hear from you. You can contact me on the website AviationCareersPodcast.com and click on the contact page, or e-mail me directly at carl@AviationCareersPodcast.com. Also don't forget to like us on Facebook and on twitter @flyingcareers. By liking us you will be kept up to date on episodes and other career news.
Thanks for listening and remember to keep focused on your aviation career goal! Safe Flying!
Podcast: Play in new window | Download
Subscribe: Apple Podcasts | Android | RSS
Subscribe To Aviation Careers Podcast: