Podcast: Play in new window | Download
Subscribe: Apple Podcasts | Android | RSS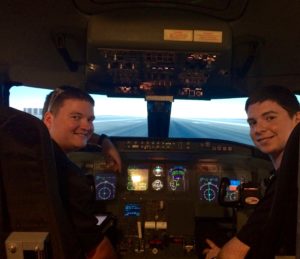 Welcome to episode 118 of the podcast that answers your questions about aviation careers and helps you take that next step to that rewarding career! Today I am joined by Paul Grieco to answer questions about choosing between aviation and other passions, how to convert a foreign flight certificate to a US FAA, scholarships for Canadians, and more!
Announcements
The Polk State Flight Team (which Carl coaches) got first place in the NIFA Safety Competition for the second year in a row! You can help Carl and the team continue this great learning experience by donating to the team.
In order to recruit new pilots and retain existing ones, the airline Paul works for has started a guaranteed interview program with United Airlines to help pilots move from the regional up to the major. The first 10 pilots from his airline are moving up this month and next month.
1 Year update from a listener working on IFR, discussing accelerated programs.
Chicago native with 0 flight hours, trying to determine going through an accelerated program or sticking with a standard program at a local FBO.
Questions from Listeners
Trying to do what to do with my life: Dentistry vs. Pursuing Aviation.
Questions about obtaining a first class medical when you have DUI's on your record. Also wondering about problems getting training and hired being of Middle Eastern dissent.
Pilot working in South Africa, looking for online resources for getting current from overseas.
17 year old from S. Africa getting ready to move to US for college flight training, questions about converting his certificate to FAA certificate and keeping it.
Help trying to decide whether to become an airline pilot or stay as an Aeronautical Engineer.
Scholarships for Canadians.
Update from a budding pilot is getting ready for his solo flights.
Advice for transitioning from military rotorcraft to civilian fixed wing.
Resources Mentioned in this Episode