Podcast: Play in new window | Download
Subscribe: Apple Podcasts | Android | RSS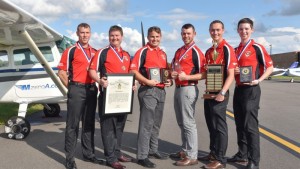 Are you too old to fly? Will an additional degree help you with your piloting career?  What direction should you take in your training? These questions and more will be answered in this episode of Aviation Careers podcast.
Welcome to episode 97. Joining me is Eric Crump; flight instructor, college professor, and Aerospace Director at Polk State College. Today we will answer your questions concerning your aerospace career.
Announcements:
Polk State College Flight Team wins awards at the National Intercollegiate Flying Association Regionals.  Membership in a flight team is rewarding, teaches how to win with integrity, and is helpful towards advancing your career.
The new ebook version of the  Aerospace Scholarships 2015 is available for download.  The version is completely revamped and is much easier to use. Go to AerospaceScholarships.com to get your copy.  Members of the website can download the PDF file for free.
The electronic PDF version of the book Aerospace Scholarships 2016 will be available for purchase online for $10 and will include ALL quarterly updates throughout the year! Advanced purchase will include a copy of the 2015 Aerospace Scholarships Book.  Available soon at AerospaceScholarships.com.
Listener Mail:
I am a 35-year-old husband and father of two. I'm worried that I'm too old to be competitive in the marketplace.
Am I too old to become a major airline pilot?
Would I be able to make enough as a regional pilot to support a family?
If being a pilot is out of the picture, are there other career paths in aviation?
Should I get an additional college degree in aviation?
Should I pursue a 10-month aviation flight school program?
Should I join an Ab Initio cadet program and fly the right seat of an A320?
I would like to set myself up to fly for a major airline.
Should I attend flight school and college in a good weather environment such as Florida and move out of the cold north?
I am 28 years old  and struggling to make a decision on what to do next.
I want to be a competent safe pilot, share my love of flying with others, and get paid.
Scholarship of the Week: