Podcast: Play in new window | Download
Subscribe: Apple Podcasts | Android | RSS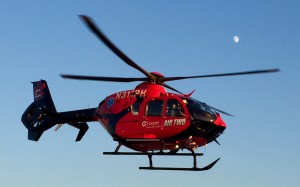 I was stuck in traffic on route 80 in New Jersey thinking: "why aren't we moving?" Then in the distance I could hear the sound of a helicopter as it approached and then flew toward the flashing lights ahead. Moments later after circling the helicopter was on the ground. It was then that I thought to myself: "I sure hope I never need to use that helicopter, but I'm sure glad it is there if I need it."
One of the more exciting jobs I can imagine is flying into a remote location and picking up injured people. But with that excitement comes some risk and I really appreciate those first responders who answer the call every day to fly into remote and hazardous locations to save lives.
Today I have with me a flight nurse who is no stranger to this podcast Paul Grieco, RN. Paul has been a nurse for 13 years and a flight nurse for 10 years and is an advocate for those who wish to enter the field. As you know from past episodes Paul has taken a new direction in his life with an airline career. Paul is able to successfully combine both his passion for nursing and passion for flying. He is one of the hardest working people I know.
Paul and I Discuss How To Become A Flight Nurse:
Why he became a Nurse.
The Challenges of becoming a Nurse.
How he became interested in becoming a Flight Nurse.
The type of aircraft a Flight Nurse will fly.
Unique skills and challenges to being a Flight Nurse.
How he is able to combine both careers as a pilot and nurse.
Why he chose to fly for the airlines.
Advice on how to become a flight nurse.
Links:
Scholarships of The Week:
Medical Transport Leadership Institute Scholarship
Video: