Podcast: Play in new window | Download
Subscribe: Apple Podcasts | Android | RSS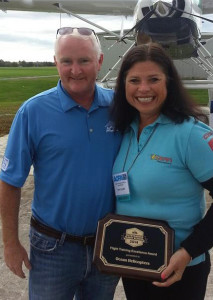 Many times I dreamed of hovering above the Earth looking down upon my home, where I went to school, or simply watching dolphins play in the azure waters below. One way I have realized this dream is by flying a helicopter.
The helicopter is a unique aircraft; transporting people to unique locations, allowing us to view the world from a point in space, and playing a key role in helping save lives. If this sounds like fun you should consider a career as a helicopter pilot.
In past episodes, we spoke with Police, Army, and Coast Guard helicopter pilots and you can find those episodes linked below. Joining us today is a pilot who will help us understand how to become a commercial helicopter pilot.
Pam Landis is Vice President and Chief Flight Instructor of Ocean Helicopters in West Palm Beach, Florida. Pam is truly passionate about helicopters and teaching people how to fly. Pam is also on the training committee with Helicopter Association International.
As a testament to her commitment to aviation education, she was instrumental in Ocean Helicopters being awarded the 2014 Aircraft Owners and Pilots Association (AOPA) 'Flight Training Excellence Award' for Outstanding Flight School. Only 10 flight schools from around the country were selected for this award, and Ocean Helicopters was the only helicopter flight school featured.
Pam and I discuss:
­
The joy of flying helicopters.
Why you should consider a career flying helicopters.
Various jobs you can look forward to as a commercial helicopter pilot.
How to become a commercial  helicopters pilot.
Things you should do before you begin your training.
Costs of training and how to make your training more efficient.
How to become a helicopter pilot if you are a fixed wing pilot.
Ocean Helicopters and how they prepare pilots for a career as a
commercial helicopter pilot.
Links:
Helicopter Association International
Past Episodes With Helicopter Pilots
Scholarship of the Week:
Helicopter Foundation International Commercial Helicopter Rating Scholarship
In answer to the helicopter industry's need for qualified pilots, and in an effort to attract new talent to the industry, HFI is sponsoring four Commercial Helicopter Pilot Scholarships.
Candidates who currently holds a private helicopter pilot license to obtain a commercial helicopter rating. A primary determinant will be evidence of the applicant's skill and ability to be a commercial helicopter pilot and interest in pursuing a career as a pilot in the helicopter industry.

Typical scholarship open date: September 1, closing date November 30. A total of 4 scholarships is available each valued at $5,000 each.